Last Updated on 2023-09-25 by Kshal Aideron

You received your 1 Million Skill Points via a Friend Link. How do you get those skill points onto your character?
Keep reading to find out how to redeem your 1 million skill points as well as other items that may be in your redemption queue!
Your Redemption Queue
When you receive your 1 million skill points (or login rewards), they will go to a redemption queue.
This queue can be found by clicking the little icon in the bottom left hand corner of your screen that looks like a floppy disk. This is right above the in game clock. Chances are, it will be highlighted or flashing.
When you click on this icon, an overlay will pop up that shows all of the items waiting for redemption!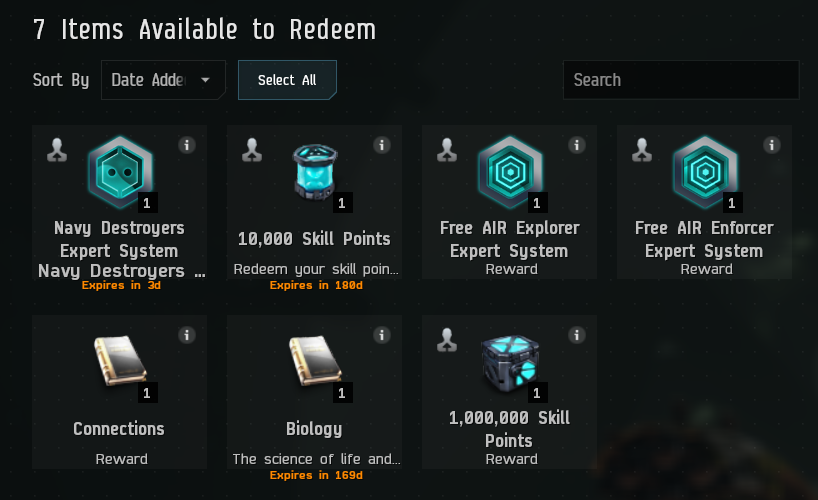 How to Redeem Your 1 Million Skill Points
Now that you've found your redemption queue and see your 1 million skill points, it's time to redeem them!
Make sure you're on the character that you WANT to receive them.
Click the item you want to redeem. If you want to redeem multiple, but not all, hold the control key on your keyboard and click the item(s) you want.
When you're done selecting the item(s), choose to either redeem it to the station you're currently in, or your home station.
Now your skill points are waiting for you to apply to skills in your skill queue! It's that simple!
Item Redemption Tips and Tricks
There's a few more things to mention about your redemption queue!
Items can expire. In the screen shot above, you can see that there are 3 items that will expire at some point in the future. Make sure you use the items (if you want) BEFORE they expire. If you want to see what expires next, you can actually sort by expiration in the upper left hand corner of the redemption queue.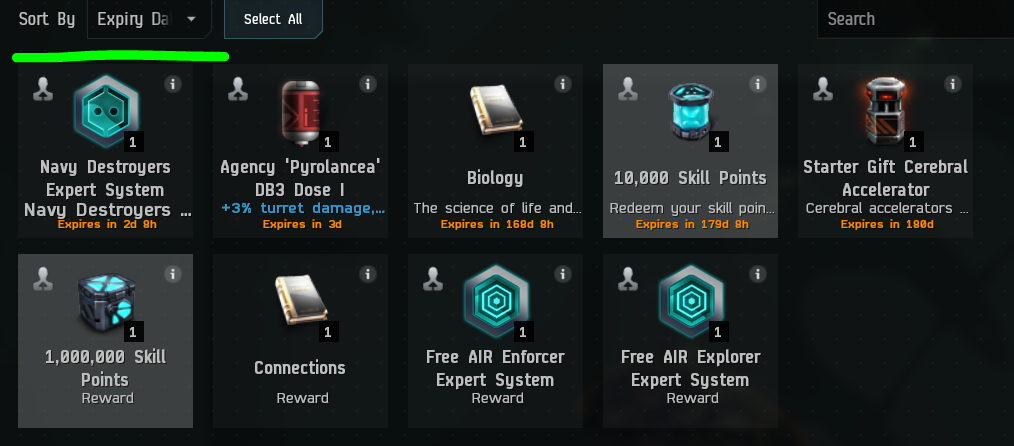 The redemption queue is shared between characters. As mentioned in step 1 of redeeming your 1 million skill points, you need to choose WHAT character you want to receive them on. This is because all 3 of the characters on your account share the same redemption queue. So if you start a new account (you can have multiple) and you don't immediately redeem the 1 million skill points, you can choose to start a 2nd character and redeem the skill points on them instead.
This is useful if you purchase a pack from the Eve Online Store and you want one item to go to a certain character and another item to go to your 2nd or 3rd character on the account.
You haven't received your 1 million skill points yet? Don't worry! You can easily receive them retroactively, no matter how old your account is! Just simply click on the link below!
https://www.eveonline.com/signup?invc=637751c5-6b10-4eb7-80dd-e63853d2756d