Last Updated on 2021-05-16 by Kshal Aideron
Interested in flying the boost ship? Claymore is our preferred command ship because it can also help with logi better than other command ships. Unfortunately, due to the cost of the this ship, we do not have handouts for this role. If you want to fly boost you'll need to bring your own.
Note: this fit is ONLY approved for Eve Rookies Incursions. Other groups will have different requirements!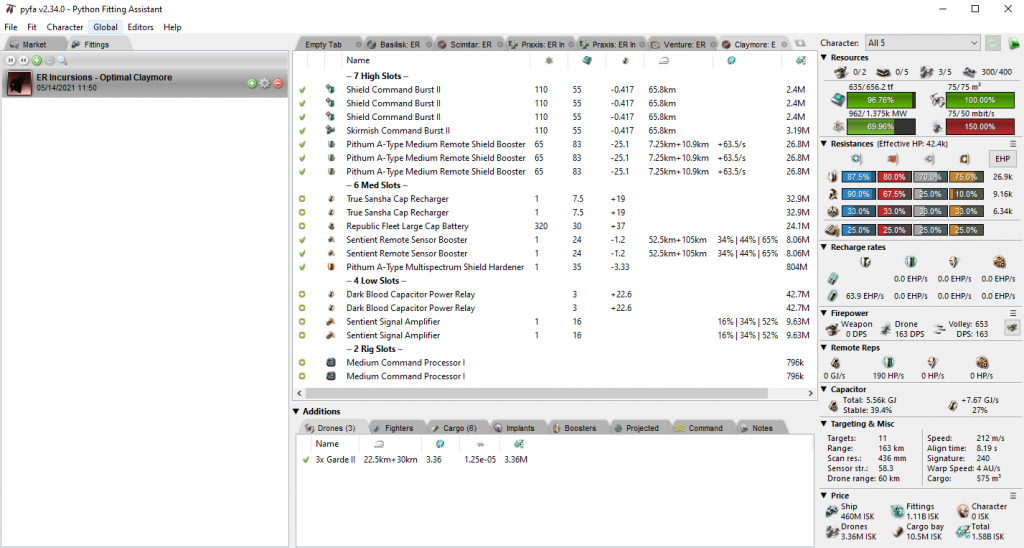 [Claymore, ER Incursions – Optimal Claymore]
Dark Blood Capacitor Power Relay
Dark Blood Capacitor Power Relay
Sentient Signal Amplifier
Sentient Signal Amplifier
True Sansha Cap Recharger
True Sansha Cap Recharger
Republic Fleet Large Cap Battery
Sentient Remote Sensor Booster
Sentient Remote Sensor Booster
Pithum A-Type Multispectrum Shield Hardener
Shield Command Burst II
Shield Command Burst II
Shield Command Burst II
Skirmish Command Burst II
Pithum A-Type Medium Remote Shield Booster
Pithum A-Type Medium Remote Shield Booster
Pithum A-Type Medium Remote Shield Booster
Medium Command Processor I
Medium Command Processor I
Garde II x3
Active Shielding Charge x3000
Shield Harmonizing Charge x3000
Shield Extension Charge x3000
Targeting Range Script x2
Scan Resolution Script x2
Interdiction Maneuvers Charge x3000