Last Updated on 2022-08-16 by Oliadar Shakiel
In the Eve Rookies vanguard incursions, we may be running with 2 Basilisks. If you're interested in flying a Basi, this is the fitting that we're using.
Note: this fit is ONLY approved for Eve Rookies Incursions. Other groups will have different requirements!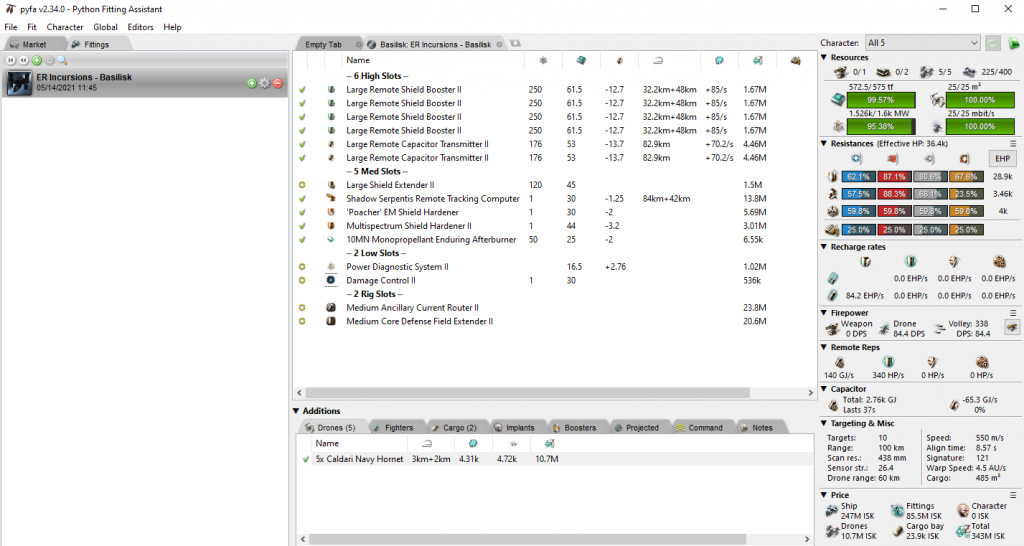 [Basilisk, ER Incursions - Basilisk]

Damage Control II
Power Diagnostic System II

Large Shield Extender II
Shadow Serpentis Remote Tracking Computer
Multispectrum Shield Hardener II
Shadow Serpentis Remote Sensor Booster
Caldari Navy EM Shield Hardener

Large Remote Capacitor Transmitter II
Large Remote Capacitor Transmitter II
Large Remote Shield Booster II
Large Remote Shield Booster II
Large Remote Shield Booster II
Large Remote Shield Booster II

Medium Ancillary Current Router II
Medium Core Defense Field Extender II


Caldari Navy Hornet x5


Scan Resolution Script x1
Optimal Range Script x1
Tracking Speed Script x1