Last Updated on 2022-01-02 by Kshal Aideron
The following fit is for OMEGA accounts as it has a T2 SEBO. If you're looking for an alpha fit, click here.
This is the handout ship and the bare minimum necessary. If you would like to bring your own T2 blasters and/or T2 light drones you are more than welcome. And of course, if you're fitting your own ship to bring please feel free to use T2 where you can (outside of the web, you DO need the faction web for VGs).
Note: this fit is ONLY approved for Eve Rookies Incursions. Other groups will have different requirements!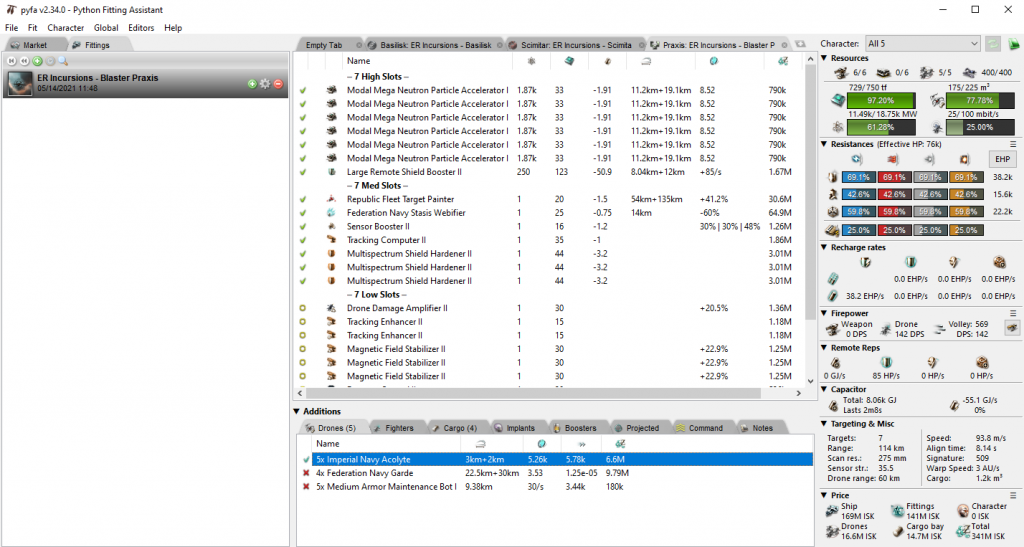 What if I don't have the skills to fly 5 drones? Get them. DPS is everything and by not investing into Drones V you'll be bringing down the efficiency of the group too much.
I think I can make this fit better. Can I change it up? You can always ask the FC if your fit is OK but don't be surprised if the FC won't let you use it. Our doctrine was made for max efficiency. Just because we're alpha friendly doesn't mean you can come with minimum skills.
Do I really have to use faction ammo? Yes. It's better DPS than T1 ammo. And yes, you really need THAT much! There's no market!
You can find the skill plan for this fit in the in game channel: ER Incursions Ship Skill Plans
[Praxis, ER Incursions – Blaster Praxis]
Drone Damage Amplifier II
Tracking Enhancer II
Tracking Enhancer II
Magnetic Field Stabilizer II
Magnetic Field Stabilizer II
Magnetic Field Stabilizer II
Damage Control II
Republic Fleet Target Painter
Federation Navy Stasis Webifier
Sensor Booster II
Tracking Computer II
Multispectrum Shield Hardener II
Multispectrum Shield Hardener II
Multispectrum Shield Hardener II
Modal Mega Neutron Particle Accelerator I
Modal Mega Neutron Particle Accelerator I
Modal Mega Neutron Particle Accelerator I
Modal Mega Neutron Particle Accelerator I
Modal Mega Neutron Particle Accelerator I
Modal Mega Neutron Particle Accelerator I
Large Remote Shield Booster II
Large Core Defense Field Extender I
Large Core Defense Field Extender I
Large Hybrid Burst Aerator II
Imperial Navy Acolyte x5
Medium Armor Maintenance Bot I x5
Federation Navy Garde x4
Tracking Speed Script x1
Scan Resolution Script x1
Caldari Navy Antimatter Charge L x10000
Optimal Range Script x1