The following fit is for ALPHA players who can not get into the basic fit. Our vanguard incursion fleet is designed to be able to support 1 or 2 of these ships. Players may go from T1 to T2 modules, but may not alter the fit in any other way. If a player has questions, please mail Kshal Aideron or Dread Nowt in game.

Note: this fit is ONLY approved for Eve Rookies Incursions. Other groups will have different requirements!
Skill Path for Alpha Friendly Blaster Praxis Fit
Drones V
Gunnery V
Hull Upgrades IV
Large Hybrid Turret IV
Light Drone Operation V
Long Range Targeting III
Medium Hybrid Turret III
Small Hybrid Turret III
Tactical Shield Manipulation IV
Target Painting I
Trajectory Analysis IV
Target Management IV
Mechanics IV
Controlled Bursts IV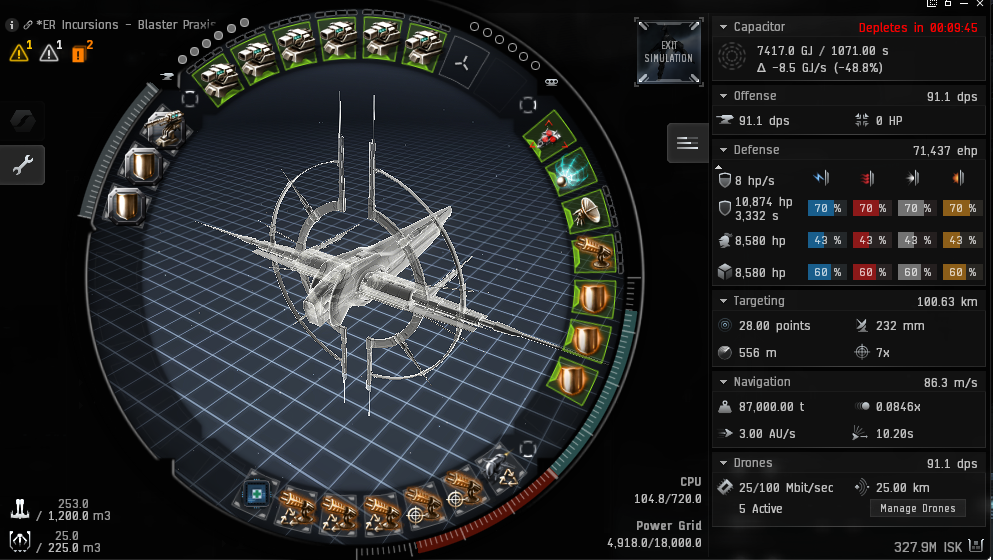 Why do I need the extra skills? I can get into the ship with the minimum skills. Yes, you can get into the ship by only having Drones II, or just Large Hybrid Turret I. However, you can't fly the ship efficiently. We need to burn the rats as fast as possible so that means getting as much DPS as possible.
I think I can make this fit better. Can I change it up? You can always ask the FC if your fit is OK but don't be surprised if the FC won't let you use it. Our doctrine was made for max efficiency. Just because we're alpha friendly doesn't mean you can come with minimum skills.
Do I really have to use faction ammo? Yes. It's better DPS than T1 ammo. And yes, you really need THAT much! There's no market!
Did you know you can cut down the training time of a fresh alpha account to less than 1 month using the 1 million skill points? You can get down to about 15 days training time by using the training skill path above if you make a fresh alpha account using a friend link. If you don't have one to use, you can always use this one!
[Praxis, **ER Incursions – Blaster Praxis]
Drone Damage Amplifier II
Tracking Enhancer II
Tracking Enhancer II
Magnetic Field Stabilizer II
Magnetic Field Stabilizer II
Magnetic Field Stabilizer II
Damage Control II
Republic Fleet Target Painter
Federation Navy Stasis Webifier
Sensor Booster I
Tracking Computer II
Multispectrum Shield Hardener II
Multispectrum Shield Hardener II
Multispectrum Shield Hardener II
Modal Mega Neutron Particle Accelerator I
Modal Mega Neutron Particle Accelerator I
Modal Mega Neutron Particle Accelerator I
Modal Mega Neutron Particle Accelerator I
Modal Mega Neutron Particle Accelerator I
Modal Mega Neutron Particle Accelerator I
Large Core Defense Field Extender I
Large Core Defense Field Extender I
Large Hybrid Burst Aerator II
Imperial Navy Acolyte x5
Tracking Speed Script x1
Scan Resolution Script x1
Caldari Navy Antimatter Charge L x10000
Optimal Range Script x1